All-in-One 8000 Series
All-in-One Ironing Solution
GC628/86


All-in-One 8000 Series
All-in-One Ironing Solution
GC628/86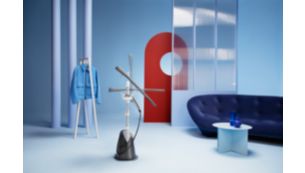 Easily select any angle to steam your garments conveniently
The multi-angle board can be pivoted to any position you require, for a flexible and convenient experience.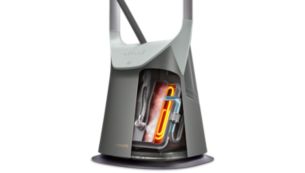 Dual Heating technology for powerful penetrating steam
Dual-heating technology enables powerful penetrating steam to banish creases ensuring your clothes look their very best.

OptimalTEMP, no burns guaranteed*
OptimalTEMP technology guarantees no burns on any ironable fabric, you can iron everything from jeans to silk with one optimal temperature setting.

Refresh your clothes easily
Kills 99.9% of bacteria** and removes odors to keep clothes refreshed and prolong their lifetime.

Powerful and continuous steam for great results
The continuous steam rate delivers effortless steaming, with the perfect amount of steam to remove creases and make fast work of all your ironing.

Tackle any wrinkle with ease
The steam plate on the device features triple precision tips, designed to tackle hard-to-reach areas like collars and in-between buttons with ease.

Hang your clothes conveniently
The top hook conveniently hangs your garments from a clothes hanger and then easily folds away if you don't need it.

Drip-free ironing at any angle
The board cover is designed using 4 layers to prevent drips when using the board at different angles, helping to speed up your results for any of your garments.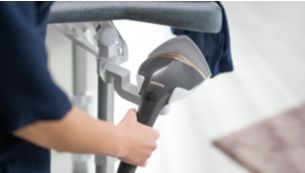 Rotatable steamer dock to keep your steamer in reach
Easily store the steamer head in the rotatable dock which enables you to always have the steamer within reach.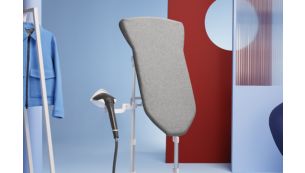 Designed for tricky areas
The tapered board helps to steam garments with tricky areas with ease. Perfect for collars, sleeves, shoulder areas and kid's clothes.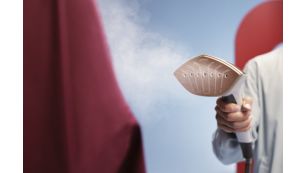 Long-lasting steam performance
Steamers need to be descaled regularly to ensure steam performance. Our new innovative engine prevents scale from building up, for long lasting steam performance.

Automatic shut off when iron is left unattended
The steamer automatically switches to standby mode when the water tank is empty, for peace of mind when left unattended.

Handy wheels for easy and fast transportation
Integrated wheels enable you to transport the device with ease and speed to wherever you need it.
Technical Specifications
Storage

Integrated wheels

Easy to use

Water tank capacity

Detachable water tank

Refill any time during use

Tap water suitable

Power cord length

Precision steam tip

Select steam level from handle

Silicone steam hose

Special water inlet

Auto shut off

Safe on all fabrics

Accessories included

Adjustable pole

Glove for extra protection

Guarantee

2 year worldwide guarantee

Technology

OptimalTEMP technology

For all ironable fabrics

No burns

Fast crease removal

Power

Continuous steam

Voltage

Vertical steam

Ready to use

Variable steam

Steam-on-demand

Pressure Bar

Green efficiency

Energy saving mode

Product packaging

User manual

Size and weight

Packaging dimensions (WxHxL)

Weight of iron

Board size (WxHxL)

Product dimensions (WxHxL)

Base dimensions : 33.4 x 45.2x 34.4 cm

Weight of board

Cover size (WxHxL)

Total weight with packaging

Foam layer thickness

Ironing surface

Weight of iron + base

Pole dimensions extended
On all ironable garments
"Continuous steam removes odors and kills >99.9% of bacteria and dust mites *" *Tested by third party institute for bacteria types Escherichia coli 8099, Staphylococcus aureus ATCC 6538, Candida albicans ATCC 10231 with 1 minute steaming time.
Our site can best be viewed with the latest version of Microsoft Edge, Google Chrome or Firefox.